Welcome to InaFlowers.com provided by Bali Blossoms, we will help you to share your feelings to your specials person with the Indonesian Flowers. Let us to care your love, emotion, feelings by our Indonesian Amazing Flowers.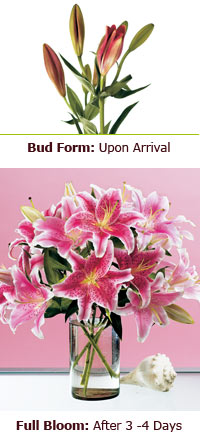 In coastal Northern California, ProFlowers can harvest its prized Lilies year round and ship them within 24 hours of picking. ProFlowers Lilies are so fresh, they haven't yet bloomed. Watch as they burst open into a magnificent display of color.
With the proper care, your Lilies will bloom over the next 3-4 days.

| | |
| --- | --- |
| 1. | Cut 1 inch off the stems and remove leaves that fall below the water line. |
| 2. | Fill vase with water and add 1 packet of flower food. |
| 3. | Re-cut stems, change water and add second packet of flower food on day 3. |
| 4. | Keep your Lilies away from direct sunlight, heat and drafts. |
| 5. | To keep pollen from staining clothes, pull the stamen out when the Lily opens (use tape to remove any pollen that gets on clothes). |