Welcome to InaFlowers.com provided by Bali Blossoms, we will help you to share your feelings to your specials person with the Indonesian Flowers. Let us to care your love, emotion, feelings by our Indonesian Amazing Flowers.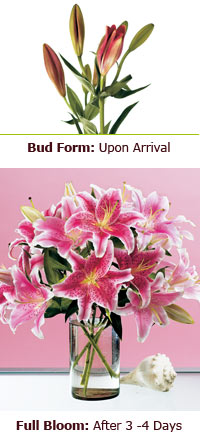 InaFlowers' Peruvian Lilies are grown in the high mountain valleys of the Andes in South America. The rich soil and year-round warm temperatures produce showy lilies with long straight stems and an abundance of blooms.
Peruvian Lilies are long-lasting, but dehydrate easily and may look thirsty upon arrival. Let your lilies drink water for about 8-12 hours to perk up.

| | |
| --- | --- |
| 1. | Remove the outside guard petals. These rugged outer petals were left on to protect your roses during delivery. |
| 2. | Fill vase with water and add 1 packet of flower food. |
| 3. | Re-cut stems, change water and add second packet of flower food on day 3. |
| 4. | Keep your Peruvian Lilies away from direct sunlight, heat and drafts. |
| 5. | Remove spent leaves to keep bouquet looking fresh longer. |